Key events
David Hytner was at the Amex, and his report has landed. Here it is! Thanks for reading this MBM. Nighty night.
Pep Guardiola speaks to Sky. "An exceptional game … congratulations to Brighton for their deserved qualification … we showed why we are champions against that team … I didn't see one drop in our intensity … nobody gave us anything in this competition … both teams want the ball, both teams want to press … Brighton are an exceptional, exceptional team … we have to rest because I have been demanding for six months, with Bayern and Real Madrid and chasing Arsenal … we have to be careful."
For the record, he's also not backing down about the disallowed goal, suggesting defenders get away with that sort of tug all the time.
Brighton chairman Tony Bloom arrives. De Zerbi says: "I have to say thanks … I had two strong situations inside the dressing room … I don't want to explain … I decided in my way and Tony never said anything … I love the freedom and now I have to say thanks."
Bloom adds: "The season started really well, and we got the phone call and Graham Potter left … it was a difficult situation … fortunately we hired the perfect man for the job … we're delighted, it's an amazing achievement for Roberto, his staff and the players … it's amazing for our fans and the city of Brighton and Hove."
The feelgood vibe continues as De Zerbi and Bloom confirm they'll be trying to sign players in the summer to further improve the squad, and Sky show footage of De Zerbi and Brighton jigging around in the dressing room after the game. Kaoru Mitoma in the background bashing out big beats. Then as De Zerbi and Bloom walk off they fling an arm around each other's shoulder, the best of pals. So sweet.
Roberto De Zerbi talks to Sky Sports. "It was really tough … we knew to play against City is always tough and I think we played very well … we deserved our point and we deserve to play in the Europa League … we didn't lose our style … to press City is courage … Julio Enciso's goal was incredible … he has big potential … the Premier League is a fantastic competition … a fantastic atmosphere … I am lucky because I found the group of players fantastic … I am a normal coach, a good coach, but it is about the quality of the players … in terms of football and as a human … I became a coach because of Pep's Barcelona … Pep is still number one."
The xG stat tonight: Brighton 2.53, City 1.78. To think of the FA Cup final we could have had.
Pep is calm now, and he embraces Roberto De Zerbi with a warm smile. Game recognises game, right? You could make a case for both teams winning that match; it's about right they shared the spoils. Everyone contributed to a fantastic game of football. "It means a lot," says Danny Welbeck of the Europa League. "It's amazing for the whole of Brighton." Jason Steele, soaking up the atmosphere as Hey Jude blasts out of the PA system, adds: "Look at this, man! What an achievement! What a club! What a group of guys! The togetherness. The culture. And we're driven on by a top, top manager who demands day in, day out. Special times!"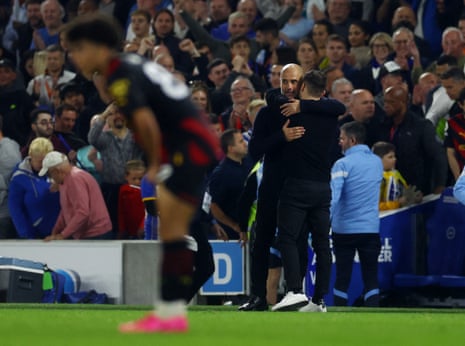 Off they go to party. The Amex, now freed from desire, mind and senses purified, is bouncing!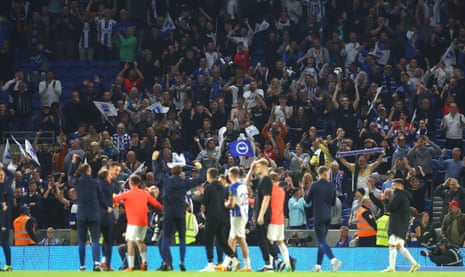 FULL TIME: Brighton & Hove Albion 1-1 Manchester City
Brighton end Manchester City's 12-game winning run in the Premier League, ensuring they'll finish in sixth place and qualify for next year's Europa League.
90 min +3: … as does the third. Brighton so close now to rubber-stamping their participation in next season's Europa League.
90 min +2: The second of four added minutes flies by without incident.
90 min +1: Van Hecke is booked for fouling Haaland once too often.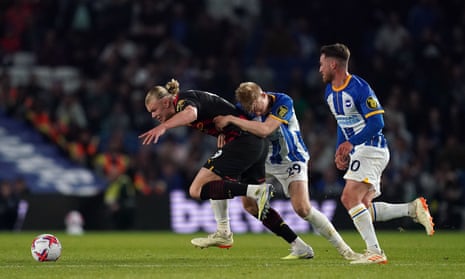 90 min: Sky pundit Alan Smith names Julio Enciso as his player of the match. Could anyone possibly disagree?
89 min: Veltman is booked for a fairly cynical check on Palmer, who had diddled him all ends up on the left wing.
87 min: Phillips comes sliding in recklessly on Mac Allister and is fortunate the Brighton man took evasive action to get out of the road. In fairness, it looked like a slip, and Phillips was very apologetic. Mac Allister accepted the apology in good spirit.
86 min: Pep's still got the face on. Not the most proportionate reaction.
85 min: Gomez and Phillips replace Silva and Stones, the latter having gone down clutching his leg. Hopefully just cramp and nothing serious enough to jeopardise any cup-final appearances.
83 min: Guardiola is booked for going on about it too long. Right up in the assistant referee's grille. Not sure why he got so hot under the collar about that. Haaland had a full handful of shirt and tugged his man out of the way to score. A strange descent into hot funk, towards the end of a game that's been played in a good spirit.
81 min: Pep Guardiola and his backroom staff aren't happy about that decision at all. Probably because it's the sort of thing that strikers so often get away with … but Haaland's tug on Colwill was a bit too obvious for him to get away with.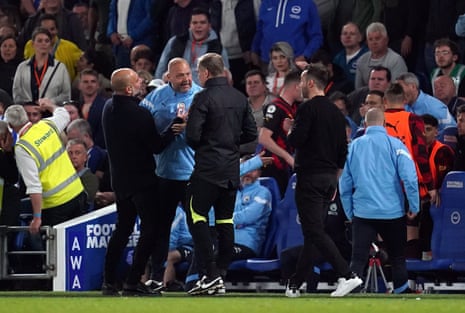 NO GOAL! Brighton 1-1 Manchester City
… but VAR gets involved. The reason Haaland had so much space? He'd taken a huge handful of Colwill's shirt to pull him out of the way. The referee goes over to the screen and doesn't waste too much time thinking about it. No goal!
GOAL! Brighton 1-2 Manchester City (Haaland 79)
Palmer drops a shoulder to get past Veltman. Haaland rises highest in the middle and plants a header past Steele from six yards. Easy as that!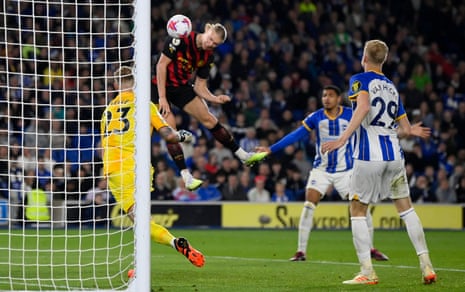 78 min: City ping it around patiently. And then …
76 min: Ferguson tries to juggle himself into position to shoot, but the ball breaks away from his control. Estupinan romps in to meet the loose ball, 25 yards out, and sends an absolute screamer inches wide of the top-left corner. Ortega wasn't getting to that, and had it been on target, Brighton would have scored two goal-of-the-season contenders in one game. Against the champions, and all!
75 min: Undav and Veltman come on for Welbeck and Buonanotte.
74 min: Alvarez runs slap bang into Van Hecke, and the defender rolls about for a while, fuming all the time. There didn't seem to be too much in the challenge, and the referee tells the big defender to get up and get on with it. He complies.
73 min: A sense that if both teams could declare now, they happily would.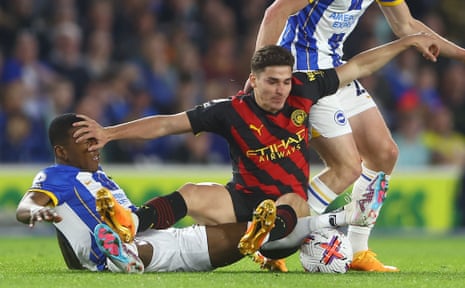 71 min: Caicedo hacks Alvarez to the floor and is slightly fortunate to avoid a booking. It's been a good-natured night, to be fair.
69 min: City slow things down with some sterile domination in the midfield.
67 min: Alvarez crosses from the right. Haaland chests down on the left-hand edge of the D before lashing a first-time drive across Steele and inches wide of the right-hand post. A fine attempt to make something out of very little.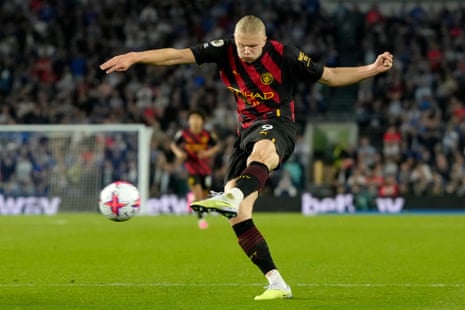 65 min: Estupinan crosses low from the left. Mitoma miscontrols, but goes after the ball anyway, nearly poking it past Ortega from a tight angle on the left. Ortega spreads himself to block well, and nothing comes of the resulting corner.
63 min: Rodri passes the ball out of play under no pressure whatsoever. The sort of basic mistake City make about twice a season. The home fans enjoyed that.
61 min: Welbeck picks Alvarez's pocket and tees up Mac Allister for a shot from the edge of the box. It's charged down. Caicedo has another go, but that's blocked as well. That's got the crowd going again.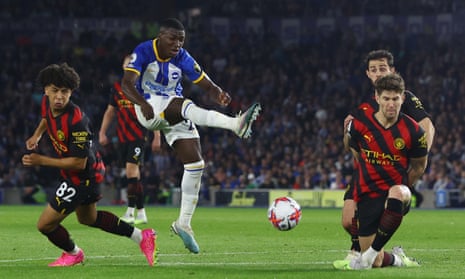 60 min: Walker has a dig from distance but drags his shot well wide left of goal. He throws up a hand of apology to several better-placed team-mates.
59 min: The changes have affected the flow of the game a wee bit. Not so much going on right now.
57 min: De Bruyne makes way for Alvarez.
56 min: Buonanotte busies himself in the City box, reaching the byline to the right of the goal. The ball breaks back to Ferguson, who has a whack from the right-hand corner of the six-yard box. It's a piledriver that Ortega does extremely well to turn around the post. Nothing comes of the resulting corner, but what a shot.
55 min: Silva goes chasing after a Palmer pass down the left. He enters the box, feels Caicedo's arm on his sleeve, and goes down. He wants a penalty but it'd have been soft as anything and he's not getting it.
53 min: Palmer's first act is to steam down the left, think about crossing, then skelping a vicious diagonal shot towards the top right. Steele parries with a strong arm and Brighton clear their lines.
52 min: Brighton make a double change. Gilmour and Enciso make way for Mac Allister and Ferguson.
51 min: Foden has been struggling with a knock for a while tonight, and eventually succumbs. He makes way for Palmer.
50 min: Gundogan has a whack from a tight angle on the right. The ball only just sails wide of the left-hand post, but it had taken a deflection on the way. The corner's worked back to Lewis, who sends a weak shot straight at Steele.
48 min: … is followed by Haaland attempting a scissor kick from the edge of the Brighton box. He meets a left-wing cross horizontally, hovering six feet above the air, though can only send the ball deep into the stand behind. He gets up and laughs. He really enjoys playing football, doesn't he.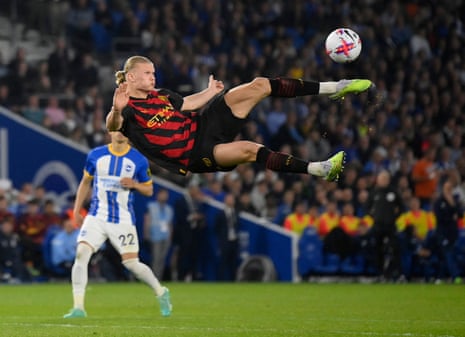 47 min: The first lull of the evening.
Brighton get the second half underway. No changes.
Half-time entertainment.
HALF TIME: Brighton & Hove Albion 1-1 Manchester City
The champions have played some gorgeous football at times. They've not been bad at all. Yet – and it's not often you can say this either – they've been second best so far tonight. Brighton have been magnificent.
45 min +2: Estupinan crosses from the left. Somehow Welbeck misses his header, six yards out. It's not often you can say this, but City could do with hearing the half-time whistle.
45 min: A cross comes into the Brighton box from the City right. Foden rushes in from the left and meets the dropping ball, attempting to steer a looping diagonal header across Steele and into the top right. His effort is majestic, and sails about one inch wide and another inch high. So close to his second. That would have been a peach.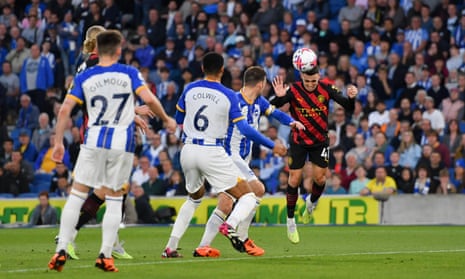 44 min: Welbeck has the ball in the net again. He's sent clear down the inside-left channel by Gilmour's forensic pass. Welbeck runs across the ball and takes a first time shot that whistles across Ortega and into the top right. What a finish! However, he went a split second too soon and was a yard offside.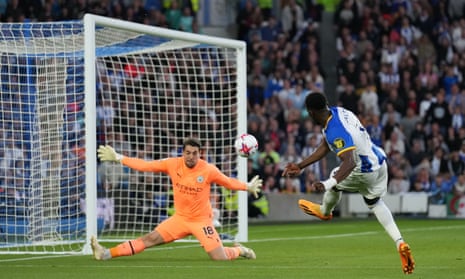 43 min: Brighton are playing some outrageously good football this evening. Triangles painted all around the pitch at high speed. Manchester City aren't getting a chasing, exactly, but they are getting a small taste of their own brilliant medicine.
41 min: Enciso dances his way down the inside-left channel again, leaving Silva behind in a cloud of dust. Silva, the face on, clips the young man's heel and goes into the book.